Propaganda, at its core is simple mass communication. Its goal is to influence the attitude of a state. Community. Sometimes an entire society. This is most often done in the form of political art posters.
The word propaganda scares us. It sends chills down our spine. It makes us get a knot in our throat. But in reality many of us are exposed to propaganda every day of the week. Normally by choice….
It can be talk radio. Fox News. Liberal political blogs. Even MSNBC's prime time lineup. These are all voluntary exposures to strong partisan views. We normally think of propaganda as something used to manipulate us by displaying facts selectively. But it can be very effective at conveying messages of all kinds.
The following images may be seen in various ways. Depending on your point of view. Offensive. Patriotic. Racist or just plain annoying. On this list I tried to include propaganda art from every era of the past two centuries. They come from widely varying points of view…….enjoy !
Daddy, what did you do in the Great War?,1915

In 1915 British illustrator Savile Lumley designed this famous guilt – inducing poster. Paul Gunn later explained the background to the poster: "One night my father came home very worried about the war situation and discussed with my mother whether he should volunteer. He happened to come in to where I was asleep and quite casually said to my mother, If I don't join the forces whatever will I say to Paul if he turns round to me and says, What did you do in the Great War, Daddy? He suddenly turned round to my mother and said that would make a marvelous slogan for a recruiting poster. He shot off to see one of his pet artists, Savile Lumley, had a sketch drawn straight away, based on the theme projected about five years hence, although by the time it had taken shape the questioner had become one of my sisters." This poster was produced before the draft was introduced in 1916. It aimed to encourage men to join the armed forces through emotional blackmail. This could also be viewed as a positive use of the powers of propaganda. If you were a supporter of "the great war".
I Want You, 1917

This portrait of "Uncle Sam" was first published as the cover for the July 6, 1916, issue of Leslie's Weekly. The title was "What Are You Doing for Preparedness?" Its creator, James Montgomery Flagg called it "the most famous poster in the world." Over four million copies were printed between 1917 and 1918. The U.S.had just entered WW I and began sending troops and material into war zones.
Beat Back The Hun, 1918
Frederick or F. Strothmann created this intense, frightening presence. It features the head of a "Hun" with blood-stained fingers and bayonet. The poster was meant to literally scare Americans into buying war bonds. Purchasing "Liberty Bonds" during WW I was seen as a patriotic duty.
These bonds are debt securities issued by the U.S. government to pay for military operations. The creation of this income not only helped to control inflation during war time, it also gave the public a feeling of involvement in the war. Even while never serving in the military. They were available in a wide range of denominations. And affordable to most citizens.
Workers of The World Unite!, 1920's
Dimitri Moor changed the face of graphic design in Soviet Russia back in 1918. His work dominated the Bolshevik Era (1917–1921). And the New Economic Policy (1921–1927). Moor's work had a constant theme. The heroism of Russia. And the evil of the West. A lot of pressure was put on Russian workers to rise up against imperialism.
 To Defend USSR, 1930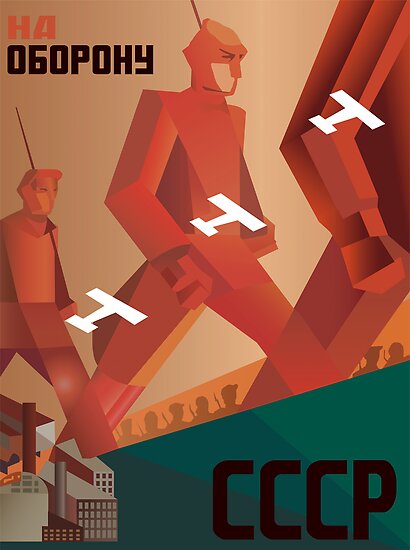 Valentina Kulagina was one of the few female poster artists to emerge from the 20th century. This poster, called "To Defend USSR" was created by Kulagina in 1930. It takes a cubist perspective in its multi-dimensional shapes. And it shows the Red army as huge, almost robotic figures. They are marching from the factories to fight the war. They are surrounded by the tiny white airplanes of the royalists.They appear to have no effect on them at all. In fact they seem to be flying through the figures. Chilling.
The Guarantee of German Military Strength, 1932
In Germany in the 1930's, propaganda was in full swing. And being used by Hitler to call the German people to arms. And spread lies about the Jews. One of the most famous artists behind Nazi propaganda was Hans Schweitzer, known as "Mjolnir." This poster by Hans Schweitzer shows the typical pro-Nazi theme of the German army's strength. Depicting an S.A. man standing next to a solider. The text reads, "The guarantee of German military strength!"
Liberators, 1944
The Nazi's had a very creative approach when it came to producing poster during the second world war. This one was designed by Norwegian cartoonist Harald Damsleth. The image stereotypes Americans. It's supposed to show some of our worst qualities. Bullying. Greedy. Over-sexed. Racist.
Above and Beyond, 1940's?
Doris Miller served in the U.S. Navy during Pear Harbor. He received no gunnery training. When the attack came, Miller manned the weapon of a fallen gunman. He successfully hit enemy planes. He was awarded the Navy Cross. But only after pressure from the black press. This proud tribute to Miller's heroism was later released as a navy recruitment poster.
Open Trap…, 1940's
This poster is obviously racist. And it's not exactly accidental. Many U.S. produced propaganda posters from World War II would show the Japanese as goofy stereotypes. Buck teeth. Big ears. Exaggerating the eyes was also common. This incredibly racist image reflects our need to make our enemies less then human. So when we kill them it's not so evil.
We Can Do It,1942
"We Can Do It!" is a WW II era American wartime propaganda poster produced by J. Howard Miller in 1943 for Westinghouse. It was a tool to boost worker morale. Surprisingly, the poster wasn't popular during World War II. It was reclaimed in the early 1980's and widely reproduced in many forms. The poster is often called "We Can Do It!". It's also mistakenly called "Rosie the Riveter". The "We Can Do It!" image was used to promote feminism in the 1980's. After its rediscover, people assumed that the image was always meant to be a call to inspire women workers to join the war effort. That is wrong. During the war the image was strictly internal to Westinghouse. And it was displayed only during February 1943. It wasn't meant to recruit new workers. It was meant to inspire already-hired women to work harder. Feminists and others have used the poster's powerful message to remake the image into many different forms. Self empowerment. Campaign promotion Advertising. Even parodies.
Please take a moment to subscribe to my email newsletter to view the entire article.
Once you subscribe to the newsletter, you will be sent a "Thank you" page which contains the entire blog post. You can finish reading the article there.  You must confirm your subscription to receive the "Thank you" page with the post.  Thanks.