40. Dean Berkeley and his Entourage (aka the Bermuda Group)
Painter: John Smibert ,Year: ca.1729-39 – George Berkeley left London in 1729 to found a college in Bermuda; he and his entourage had their portrait made to commemorate their passage. The resulting painting is a conversation piece: Berkeley manages to simultaneously be well integrated in the group and set-off as a visionary. He looks heavenward to receive a message, which transmitted by him through the zigzag carpet pattern to his amanuensis on the viewer's right. It is like a divine game of telephone; My telephone, m-m-my telephone.
39. Death of General Wolfe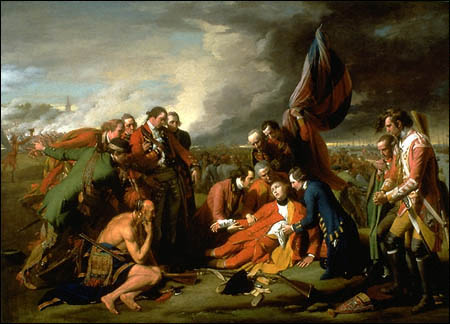 Painter: Benjamin West, Year: 1770 – The death of British General James Wolfe during the Battle of Quebec of the Seven Years War is figured by West as if it is Christ-like. In this neo-Lamentation scene, Wolfe is surrounded during his last moments. The scene is given a uniquely American cast by the figure of the kneeling Native American who is seemingly lost in deep thought. West's incredible history painting was criticized at the time for rendering the subjects in contemporary dress. Before West's painting, classical attire was thought to have been the only appropriate way to memorialize the event.
38. Watson and the Shark
Painter: John Singleton Copley, Year: 1778 – Watson and the Shark was inspired by an event that took place in the harbor, Havana, Cuba. In 1749, fourteen-year-old Brook Watson was attacked by a shark while swimming in the harbor. His brave shipmates came to his rescue. Copley masterfully orchestrates all of the elements of the turbulent scene for maximum effect. Could Copley have picked a more dramatic moment to depict?
37. George Washington (Athenaeum)
Painter: Gilbert Stuart, Year: 1796 – Stuart's painting is the exemplar for Washington's portrait on the dollar bill. It is thus arguably the most reproduced American painting of all time. Stuart was also concerned with the dollar. Recognizing the appeal of his Athenaeum portrait of Washington, he chose not to finish it; instead, he devoted his time to making as many copies of it as possible. Dollar, dollar bill y'all!
36. The Artist in His Museum
Painter: Charles Wilson Peale, Year: 1822 – From the carefully rendered turkey to the precisely administered cages replete with American fauna, Peale argues that art is the accurate transcription of observable facts. Too bad his upraised arm seems to have no connection to his shoulder.
35. Peaceable Kingdom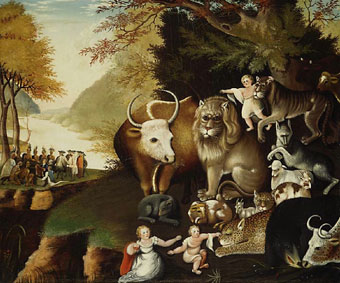 Painter: Edward Hicks, Year: ca. 1825-30 – The Quaker preacher, Hicks painted 61 different version of this composition. He believed that his paintings could impart important religious lessons. Under the guidance of Quakers, America is Eden where even the lion and ox peacefully co-exist.
34. View from Mount Holyoke, Northampton, Massachusetts (The Oxbow)
Painter: Thomas Cole, Year: 1836 – Movement is the key to understanding this painting. As seen from Mount Holyoke, the Oxbow was formed when the Connecticut River pushed past its banks to create a curved shape. If the painting is read from right to left, its mood is ominous; there is nothing but storms ahead. Read from right to left, optimism reigns; the storm has passed and left sunshine in its wake.
33. Reverend John Atwood and His Family
Painter: Henry F. Darby, Year: 1845 – The hyper-real appearance of the sitters in this painting might be an indication of the pressures of early photography on the practice of painting. Darby was only seventeen when he made this painting of Reverend Atwood and his family. The sitters' pious appearance – they read five bibles – is juxtaposed against the fashionable furnishings and lush textiles that surround them.
32. The Jolly Flatboatman
Painter: George Caleb Bingham, Year: 1846 – Riverboat men on the Mississippi are the subjects of this painting. The boat holds little cargo suggesting that it is headed back up the Mississippi River. The men are free to engage in leisure activities as the central figure of this triangular composition dances to a tune we cannot hear.
31. Kindred Spirits
Painter: Asher Brown Durand, Year: 1849 – Spirits was Durand's tribute to his dear and departed friend Thomas Cole. Durand created the perfect composite view of Cole's favorite sites, Kaaterskill Falls and the Catskill Cove. With his paintbrush Cole points to the great beyond, his final destination, as his friend William Cullen Bryant looks on. This painting was famously purchased from the New York Public Library as a different sort of tribute for the Crystal Bridges Museum in Bentonville, Arkansas.
30. Washington Crossing the Delaware
Painter: Emanuel Gottlieb Leutze, Year: 1851 – This depiction of George Washington's perilous Revolutionary War crossing before the Battle of Trenton might be the most famous American painting of all time. It is meant to be seen with Wagner's Ride of the Valkyrie playing in the background.
29. The Veteran in a New Field
Painter: Winslow Homer ,Year: 1865 – In an evocation of the Grim Reaper this Civil War veteran, his jacket and canteen discarded in the foreground, reaps golden wheat in a field. The scythe is strapped to the veteran in the way that his gun would have been during wartime. The viewer is denied the opportunity to see the veteran's face as he cuts down wheat in its prime; it only enhances the somber undertones of the painting.
28. Among the Sierra Nevada Mountains, California
Painter: Albert Bierstadt, Year: 1868 – Albert Bierstadt's beautifully crafted paintings played to a hot market in the 1860s for spectacular views of the nation's frontiers. Bierstadt was an immigrant and hardworking entrepreneur who had grown rich pairing his skill as a painter with a talent for self-promotion. He unveiled his canvases as theatrical events, selling tickets and planting news stories—strategies that one critic described as the "vast machinery of advertisement and puffery." A Bierstadt canvas was elaborately framed, installed in a darkened room, and hidden behind luxurious drapes. At the appointed time, the work was revealed to thunderous applause.
27. Ledger Painting (Abbott Ledger Book)
Painter: Cheyenne Tribe, Year: ca. 1870s – Until the second half of the nineteenth century Plains Indians often recorded their oral traditions in paintings on rocks, cave walls, and tee-pees. Once explorers forged west, ledgers were introduced and a new form, the ledger painting, was born. Artists used watercolor and pencils to capture important events. In this painting, a warrior takes part in a raid.
26. Arrangement in Grey and Black: Portrait of the Painter's Mother
Painter: James Abbott McNeill Whistler, Year: 1871 – This painting is so much more than a Mr. Bean plot point or an Arrested Development episode title. Alternatively referred to as an American icon or the "American Mona Lisa," it is an emblem of motherhood and family values. Eschewing any sentimental value, Whistler pawned this painting shortly after creating it, and it eventually ended up in the Musée d'Orsay, Paris.
25. The Gross Clinic
Painter: Thomas Eakins, Year: 1875 – This most "powerful, horrible, and fascinating" painting features a self-portrait of Eakins as the seated figure who scribbles with a writing implement that is as much scalpel as it is pen. It is based on a surgery led by Dr. Gross on the cancerous femur of a young man witnessed by Eakins. The painting was rejected for the art exhibition of the Centennial Exposition of 1876; it was relegated to ornament in the U.S. Army Hospital display.
24. Madam Pierre Gautreau (aka Madame X)
Painter: John Singer Sargent, Year: 1884 – Scandal! When this painting was exhibited at the Paris Salon of 1884, one strap of the subject's gown had fallen down her shoulder. Viewers were titillated and horrified. Madame X's mother demanded that the painting be taken down. Sargent refused on the grounds that he had painted her as she was dressed. He later repainted the strap to make it look more secure.
23. The Banjo Lesson
Painter: Henry Ossawa Tanner, Year: 1893 – Tanner's painting is among the first to show a realistic portrayal of black Americans. In those times blacks were usually shown in what can be politely described as "stereotypical" ways. This great little painting is very sensitive in its portrayal of how knowledge is passed down to younger generations. This makes the banjo a metaphor for the knowledge and wisdom of older people.
22. Stag at Sharkeys
Painter: George Bellows, Year: 1909 – Bellows was a mostly-pro baseball player –turned artist. As a result, he is especially attentive to the boxers/stags who lock horns in the ring. The gritty, dirty vulgarity of the fight is echoed in the audience, especially the figure on the far side of the ring who seems as violent as the event he watches.
21. Portrait of a German Officer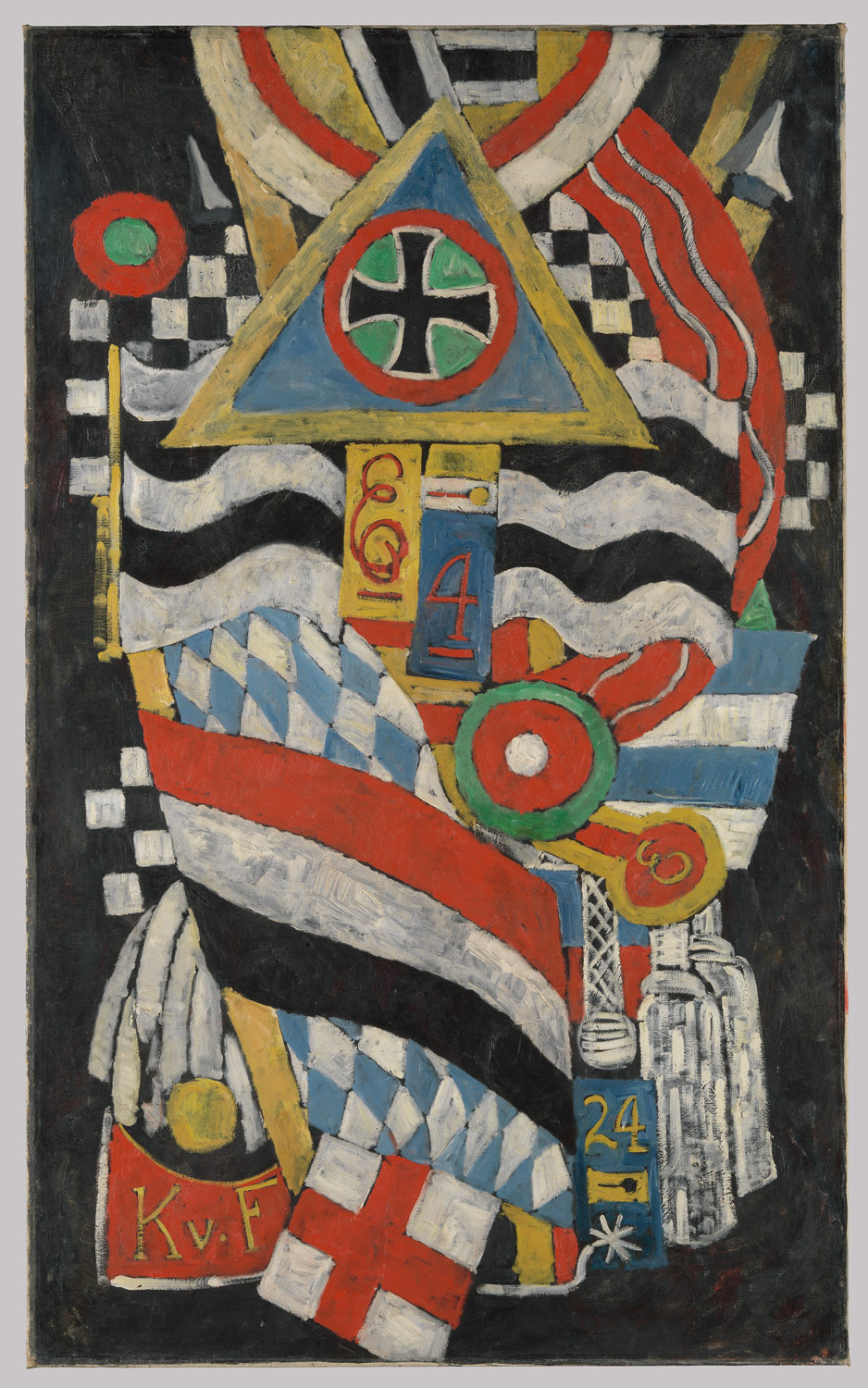 Painter: Marsden Hartley ,Year: 1914 – Hartley's portrait of a fallen friend, Karl von Freyburg, is awash in symbols and riotous color. The palette is Fauvist, while the splintered view is standard Cubism. The numeral four may be reference to his friend's regiment, while twenty-four marks the age at which his dear friend was slain. Many scholars have ascribed the portrait's deeply emotional nature to the fact that Freyburg and Hartley may have been lovers.
20. Brooklyn Bridge
Painter: Joseph Stella,Year: 1919-1920 – Although Stella did not faithfully reproduce the bridge, his deft composition contains the bridge's most striking elements, including pedestrian walkways, Gothic arches, and the thicket of wires and cables. The hellish-red at the base of the painting is juxtaposed against the heavenly-blue that is the focus of the composition. Stella's painting is affective, and more evocative than a literal transcription of the bridge would be.
19. The Problem We All Live With
Painter: Norman Rockwell, Year: 1964 – What can I say? This is a very moving painting done by a legendary and great American. Norman Rockwell was famous for his illustrations for the Saturday Evening Post. He was also a very accomplished painter. This work shows his sensitivity toward the American Civil Rights Movement. The action tells the story of Ruby Bridges. She was a six-year old African American girl breaking the color barrier at an all-white New Orleans public school. This brave little girls faced taunts from a crowd of angry whites.
18. American Gothic
Painter: Grant Wood, Year: 1930 – Yes, I know you've seen this painting before; but have you truly looked at it? If so, you would see that the painting is rigorously organized. The pitchfork in the man's hand is mirrored by a similar pattern in the stitching of his overalls. The stripes of his shirt are echoed in the boards of the house and barn behind him. The woman is tied into the composition through the pattern of the circles on her shirt, which rhyme with the spectacles on the man's face. In the ultimate rhyming pattern, the pair is rendered in a stiff manner, which ultimately resounds with the very surface it is painted on: a board.
17. Jack-in-the-Pulpit
Painter: Georgia O'Keeffe, Year: 1930 – Skyscrapers, skulls or *ahem* flowers, O'Keeffe used the same technique to picture them all. She enlarges the subject to the edges of the frame, resulting in a fully frontal, oversized depiction. Anything O'Keeffe thus captures takes on a totemic quality: it is to be worshiped.
16. The Migration Series, Panel 1
Painter: Jacob Lawrence, Year: 1940 – Jacob Lawrence's The Migration Series (1940–41), a sequence of 60 paintings, depicts the mass movement of African Americans from the rural South to the urban North between World War I and World War II—a development that had received little previous public attention.
15. Nighthawks
Painter: Edward Hopper, Year: 1942 – Strangely enough, for a painting dripping with feelings of loneliness and estrangement it keeps pretty good company. Blade Runner's look was inspired by it. Wim Wenders famously recreated this scene for a film within a film in the History of Violence. The Simpsons featured it prominently in an episode. Tom Waits wrote an album of songs inspired by it. Gottfried Helnwein replaced the sitters with Marilyn Monroe, Humphrey Bogart, James Dean and Elvis in Boulevard of Broken Dreams. Joyce Carol Oates penned a novel giving an interior life to the pictured characters.
14. Freedom from Want
Painter: Norman Rockwell, Year: 1943 – Rockwell painted a quartet of canvases for the Four Freedoms Series inspired by an FDR speech; the Four Freedoms included freedom of expression, freedom of worship, freedom from fear, and freedom from want. Freedom from Want was reproduced in an edition of the Saturday Evening Post, a place where many Americans saw Rockwell's iconic domestic images. This painting is emblematic of Rockwell's disturbing nostalgia: all is mostly well, except for the strange-looking boy in the back rear of the composition.
13. Christina's World
Painter: Andrew Newell Wyeth, Year: 1948 – Perhaps because it has been misunderstood as a depiction of teenage angst, for decadesChristina's World was a dorm room poster staple. The woman actually depicted in the painting is Christina Olson, a woman who was paralyzed from the waist down as a result of a degenerative disease. Wyeth imbues the scene with emotion — even for the viewer who is unaware of Olson's plight — through the taut, yet invisible line stretching between her head and the peak of the house. Christina's destination seems impossibly far away.
12. One: Number 31
Painter: Jackson Pollock, Year: 1950 – Pollock famously worked with the canvas on the floor, using any means necessary to muscle paint around. Pollock admitted that these seemingly abstract "drip" paintings were sometimes representational, adding that "when you're working out of your unconscious, figures are bound to emerge." Let me translate that for you: look at something long enough and see…
11. Three Flags
Painter: Jasper Johns, Year: 1958 – Here, Johns manages to divest the flag of much of its symbolic meaning. Instead he forces the viewer to focus on the richly painted surfaces and depth created by stacking three canvases on top of each other.
10. Elegy to the Spanish Republic
Painter: Robert Motherwell, LXX Year: c. 1961 – Motherwell was only a teenager during the Spanish Civil War, but it affected him deeply. He made more than 200 paintings on this theme. I could make an argument here for symbols, forms and abstraction, but let's just call a penis, a penis.
9. Marilyn Diptych

Painter:Andy Warhol, Year: 1962 – His art focus was on popular culture while celebrating the middle-class social and material values he absorbed growing up amid the Depression. The industrial studio he called the factory changed his style from hand painting to assembly-line silk-screening on canvas. The continuous image suggests the symbol of the moving image that made Marilyn Monroe so famous. The photo is of the Monroe the star not the person. Using diptych format from Byzantine icons of Christian saints, it shows Marilyn in biblical proportions. It takes the viewer to reflect on Monroe's life to get their own meaning of the piece.
8. Sugar Shack
Painter: Ernie Barnes,Year: ca. 1972 – Ohhh, you thought J.J. from Good Times painted this? No. Ernie Barnes AKA the NFL's 1960 10th draft pick did. He drew on his southern childhood and athletic experience to render fluid bodies in a style that is more mannerist than "Dy-no-mite!"
7. Robert Colescott Page from an American History Textbook
Painter: Robert H. Colescott, Year: 1975 – Satire is the name of Colescott's game. His work constantly deals with issues of racial representation and history by recasting well-known historical figures as African-Americans in familiar Western paintings. In this painting, George Washington, Revolutionary War general and first U.S. president becomes George Washington Carver, the black scientist and inventor.
6. Sleepwalker
Painter: Eric Fischl, Year: 1979 – Should we be allowed to gaze at the sleepwalking boy standing in a kiddie pool? Is he urinating? masturbating? Fischl has the uncanny ability to make the viewer into voyeur, however, the more we look at this painting, the less we understand.
5. Scull
Painter: Jean-Michel Basquiat, Year: 1981 – Basquiat was a precocious child, and at the age of seven, his mother gave him a copy of Gray's Anatomy, which he later used as a reference to create his masterful and deconstructed figures. In this painting, Basquiat presents us with a face in the shape of a skull. Although complete with eyes, a nose, and teeth, the painting gives us the illusion that the face is incomplete, and the bones from underneath the surface are coming through just as plainly as the colors in the background. The head is filled with Basquiat's illusory graffiti, giving the impression there are forms and figures within the face, but upon closer inspection, the face is a shambles of abstract lines and shapes.
4. Great America
Painter: Kerry James Marshall, Year: 1994 – Marshall takes on our American appetites, whether love of amusement parks, like California's Great America, or our (former) appetite for slavery. The National Gallery's announcement of their acquisition of Marshall's painting interprets it thus: "In Great America [Marshall] re-imagines a boat ride through the haunted tunnel of an amusement park as the Middle Passage of slaves from Africa to the New World. What might in other hands be a work of heavy irony becomes instead a delicate interweaving of the histories of painting and race."
3. Self-Portrait
Painter: Chuck Close,Year: c.2000-1 – Close's large canvasses are incredibly detailed, forcing the viewer to combine small geometric details into one coherent image. Many have wondered if he uses computers to achieve the pixilated effect of his paintings. Nope. Close takes photographs of his subjects and then grids the photos and canvas to be painted.
2. Bush at Abu Ghraib
Painter: Peter Saul, Year: 2006 – Saul's acid-hued painting features a grinning President George W. Bush, who embraces a misshapen, bullet-ridden Iraqi soldier with one arm, while probing the distorted soldier's mouth with another. Bush's gesture could be influenced by a number of art historical sources. One wonders which gesture Saul references: The trader in Gerome's The Slave Market exploring the mouth of a potential human purchase? Or is Caravaggio's Doubting Thomas poking his hands into Christ's wounds. Ultimately, only Saul knows…
1. Barack Obama/Hope
Painter: Shepard Fairey, Year: 2008 – Known to many of us as the poster plastered everywhere in support of now-President Barack Obama, this image began life as a 60" x 44" collage in Fairey's studio. OBEY.