Erotic imagery is part of nearly every culture on earth. This imagery is very wide ranging. We have Western masterpieces like Michelangelo's David. The Kama Sutra inspired batiks in the Himalayas. And the phallic shrines of Thailand. All of these masterpieces pay tribute to and celebrate, sex and sexuality.
However, erotic public art hasn't always been appreciated. Many works of art were labeled pornographic or indecent. And were banned from public viewing. Others were destroyed. Or ignored.
Works by great masters such as Picasso continue to create controversy even today. Contemporary artists, following in some well-established footsteps, continue to court controversy by painting the erotic.
In my opinion, the paintings below are not pornographic. But they are erotic. These works are just too technically intricate to be written off as smut. Sexuality is a common denominator shared by all humans. Art, as celebrated in the paintings below, helps us to think about that. These artists help us reflect upon, and share in this unifying act.
Pompeiian Erotic Wall Paintings
In the 18th century, archaeologists found a number of erotic wall paintings (frescoes). They were from the ancient Roman town of Pompeii. Many of the paintings were intended to be sacred images. They represented abundance and good fortune. For example, the fertility god Priapus, was shown sporting an extremely large erection.  He's weighing his erect penis against a bag of gold. There were other more straightforward depictions of sex. These erotic paintings were at first considered smut. And in the 19th century, they were locked away. They were only made available for viewing to very respectable people (i.e., wealthy men). This collection has gone through a few more openings and closings. It's now finally on display to the public (but not to minors).
Pablo Picasso: Erotic Scene (known as La Douleur), 1900, Oil on canvas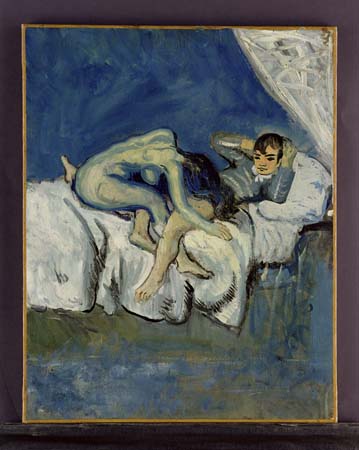 This painting of Picasso receiving fellatio has been in the custody of the MOMA since 1982. It's never been hung there for public view. The painting was pretty much unknown until it went on loan to the Barbican Museum. It was used for their exhibit, Seduced: Art & Sex from Antiquity to Now. This image isn't bad compared to some of Picasso's other, more explicit works. Which include images of bestiality and rape. I think this painting is shocking mainly because it bears the Picasso name. Not due to its sexual content. It's not very graphic by today's standards.
Japanese Erotic Paintings
Traditional Japanese shunga (erotic) painting began in the 7th or 8th century. In the 17th century, ukiyo-e woodblock prints became another popular medium for the erotic. These pictures are considered to be some of the most explicit art ever. But the prints were very commonplace at the height of their popularity. Some of the better-known shunga painters were Katsushika Hokusai and Kitagawa Utamaro.
The Toilet Venus (The Rockeby Venus) Diego Velazquez, 1647–1651, oil on canvas
This nude painting of the love goddess Venus, doesn't seem overly erotic. But it was a rarity during its time. The Spanish Church disapproved of the subject matter. So the image was reserved for private views. It somehow escaped the Spanish Inquisition. It's now now one of Velazquez's only surviving nudes.
Leda and the Swan François Boucher, 1740, oil on canvas
Here's the backstory for this piece. In the Greek myth, Jupiter King of the Gods, seduces and impregnates the maiden Leda. He was disguised as a swan. The erotic scene was painted by numerous big names. Cezanne. Leonardo de Vinci. And Michelangelo. Boucher's version may be one of the raciest.
The Origin of the World (L' Origine Du Monde)  Gustave Courbet, 1866, oil on canvas
This is one of two Courbet paintings to be banned from public view. The other one showed two nude women. However, the ban only helped increase Courbet's popularity. Just like advertisers today, Courbet knew that sex sells.
Made in Heaven,  Jeff Koons, 1990-1991
In the 1990's, American artist Jeff Koons took a satirical look at the porn industry. He painted himself in sexual scenes with Italian porn star La Cicciolina. The pictures were part of the Made in Heaven collection. They were large (about 96 by 144 inches). And very explicit. The Made in Heaven collection also showed Koons' versatility, irony, and wit. They included depictions of puppies. Kittens. Flowers. And cherubs. Which were fairly small and very cute.
The Women on Franklin Street  John Currin, 2009, oil on canvas.
The picture is a tribute to Picasso's Les Demoiselles d'Avignon. It shows three women. One is bare-breasted. The other two are touching her erotically. This work is in fact inspired by pornography. However, Currin's artistic rendering is far too nice to ever be considered low-brow.